Diving
Dolphins, diving, skin diving and fishing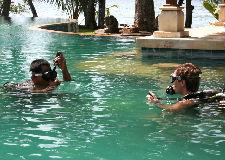 The coast of Bali is pre-eminently suitable for diving.
Diving is certainly not just for young men.
It is easier than you think!
Directly off our coast, you can find gorgeous coral reefs. Menjangan Island is an amazing place, or you can dive near a shipwreck from the Second World War at Tulamben.
I Wayan Budiadnya speaks English well and will teach you how to dive safely.
He will also take care of all the necessary materials.
Sign up at the front desk.