Places of interest
The dolphins are, of course, one of the most extraordinary features. You can view these animals in their natural environment, where they seem to have just as good a time as you.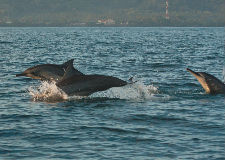 Whale sometimes pop up at the horizon.
There are gorgeous coral reefs with the prettiest fishes imaginable.
Consequently, there's a lot to see underwater as well!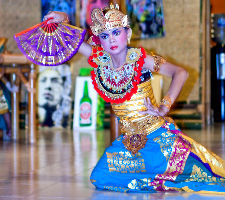 Kalibukbuk is the largest village of Lovina Beach. It houses a blend of villagers and tourists. The Balinese people are very happy you have come, because they generate their income from tourism. Visitors are always welcome. Before you know it, you'll be invited to their home or to one of their ceremonies.
Some restaurants offer Balinese dance performances.
The mountains start approximately one kilometer from the beaches, and ascend to 2000 meters. Ideal for scooter trips. A thermal bath and cold-water pool and waterfalls lie in close vicinity. The National Park is also close by.
- Kalibukbuk also has a daily market under a giant waringin. Singaraja has a large pasar.
Take a look at
Tours BALINDA
for some interesting excursions in the surrounding areas.
There is plenty to do. If you are not careful, you might not even have time left to relax!